"Waist Size (Inches)" is a required field.
"Buttons & Hardware" is a required field.
"Kilt Length" is a required field.
"Colors" is a required field.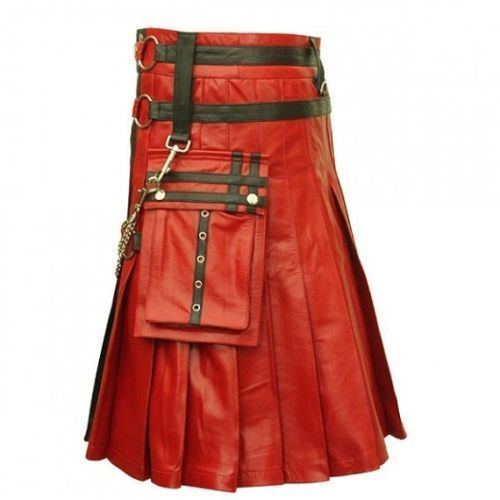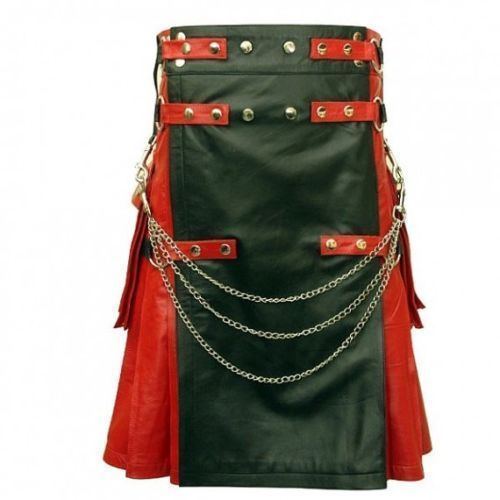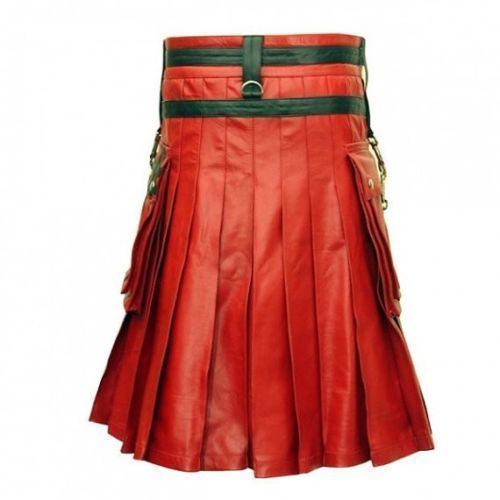 Gothic Mens Leather Kilt
€290.00
Description
Additional information
Reviews (1)
Size Guide
Description
Gothic Mens Leather Kilt
This Mens Leather Kilt has 100% pure  genuine leather with finest quality that gives it the luxurious and elite look. This Leather Gladiator Kilt with cargo pockets is a casual kilt with special traditional kilt. These kilts are made from best quality leather of Cow which gives it the smooth and best feel but with out compromising on the quality, durability of the warrior kilt .The front of this kilt is plain so we can attain the lustrous look of the leather kilt . Straps are for adjustments . Further more with deep Pockets so you can carry more than just basics . Kilt is all around with knife like pleats which gives it the best traditional look .


Features of Mens Leather Kilt

Two toned leather Red and Black
Chrome chains hanging on the front
Decorative buttons
Men's Brave Gladiator Warrior Tailor Made
100% Genuine Lambskin
Pure Leather Kilt
Available in All Sizes and Colors
As per your query please find the below mentioned details required.
We Use Four Type of Lining i.e. Satin Lining, Silk Lining, Crepe Lining and Cotton Lining
You can select Any One Lining as per your Wish and let us know Or else we generally use Satin Lining in all our Garments
The Kilt is in exactly same Design and Pattern as shown in the picture in the Color of your Choice

Design Of Mens Leather Kilt

Lets have a look on the features of this kilt and get to know that what makes this Mens Leather Kilt the best out of all
Additional information
| | |
| --- | --- |
| Colors | Black, White, Blue, Brown, Gray, Green, Khaki, Red |
Measuring guides for kilt  
If you are new to buy a kilt online and want to measure yourself for it, then read our step by step guide to get the best fit kilt for your better experience.  Why it's necessary to measure before buying!! Well, it's good to measure before rather buying the wrong size and returning the product for another size. Further, in jeans industry manufacturer has their standards to measure and a short or jeans pant doesn't reflect your actual waist to best fit because kilt size is larger than your pants size!! Don't annoy for the information you can get proof of it to measure yourself.  So, in 3-4 steps, we will guide you how you can measure your body for your 1st kilt. All you need is a pen, one page, and a measuring tape if you don't have assistant no problem you can measure yourself quickly.  We need your three sizes for kilt
1)      Your waist size
2)      Your hip size
3)      Your kilt length
4)      Fell measurement (optional)
1- Waist Size
Start with the 1st or waist size, put tape around your body at the point of your waist or belly button or where you are planning to fasten your kilt. Normally a kilt should be at the belly button, but it's totally up to you how you want to wear it. So measure the point with normal breath (our kilts has little losing for best fitting) and write on the page either in inches or cm to update in your order.  *Note: It will probably be 2 to 4 inches more than your pants size. It is common.  *TIP: BIG guys with large bellies may want to wear the kilt around the naval, as it gives a more flattering appearance.
 2- Hip Size
Moving further measure your hips at widest point, it's very easy to measure for that. Why it's necessary to give hips size?? It's an interesting answer, while we manufacture your kilt we must know either you have normal hips size or not!! Because if your hips cannot fit in your kilt that would be so embarrassing and uncomfortable to wear in public. Because we manufacture a made to order kilt so, we take care of each step to manufacture.
3- Length Size  
At 3rd step, you need to measure your kilt's length which means how long your kilt will hang while standing on your legs. People wear as per their choice, but a kilt should hang till your knee cap (but it's not a standard at all its totally up to your choice). But be sure that your starting point is from your waist point or where you plan to fasten your kilt. So it will be a length from your waist till your knee cap or what so ever you want. The standard length of kilt or drop length of the kilt is 24" in a male case and 20" in female case, but you are designing your kilt it's up to youJ.
4- Fell measurement  
Heading to end the kilt size guide the last point is your fell measurement. Don't know what is fell?? Well, Fell is measured from your point of waist till your hips (in the picture you can easily understand that) some people want that their kilt should stay with their body rather roomy or airy like fittings of pants at hips so if you will update your fell measurement you can fulfill this requirement as well. Most of the time a Fell measurement is not that necessary because most of the kilts are manufactured as per standard fell measurement which is 5-7 inches as per total length of the kilt.
Related Products
Black Stewart Heavyweight Poly Viscose Formal 8 Yard Kilt

Black Stewart Heavyweight Poly Viscose Formal 8 Yard Kilt

Traditional Tartan, Pleated to Sett.
Excellent Quality, 16 Ounce Poly Viscose which holds an excellent shape.
Pleats are stitched down from the waist to the hip for a tailored fit.
Standard 24″ Length.
Order based on your ACTUAL waist measurement, not your jean size.
See the Measuring guide in the FAQ.
This kilt will be custom made for you, please allow 8-10 days for delivery.

€

150.00