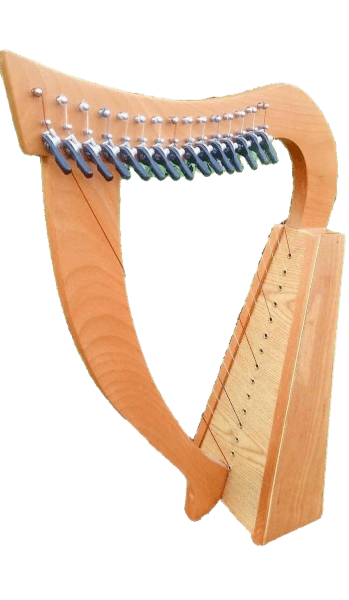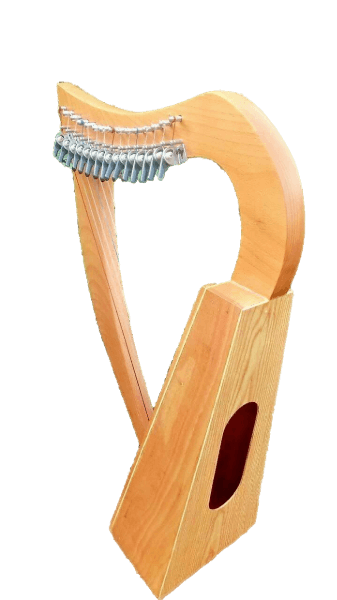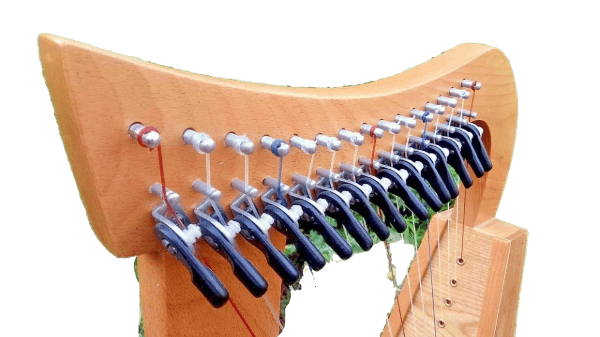 15 String Baby Harp Small Harp Mini Harp Lever Harp with Free Bag and String Set
€800.00
Description
15 String Baby Harp Small Harp Mini Harp Lever Harp with Free Bag and String Set
15 Strings Harp
Nylon Strings
Tuning Key
Harp Bag
Color: Natural
Beechwood
Lever: Semitone Black
Elegantly Crafted Instrument Made From Beech Wood
Combines Quality, Craft, and Playability
Black, Multi-Color Special Levers ( As Per Availability in Stock)
Treble and Bass Sound Holes For Sound Clarity
The 15 String Heather Harp by American Champs is an elegantly crafted instrument made from selected beech woods, which combines high-quality solid wood and craftsmanship to create a stunning, lightweight harp. Featuring a treble and bass soundhole and a smooth solid wood soundboard, this harp achieves a clear, well-rounded projection of sound. Our 15 string harp is tuned via the fine tuners and tapered tuning pegs with the included tuning tool and also features coveted levers for changing the key with ease.
Full Description:
Durable, Lightweight Crafting
This beautiful and professional beech wood 15 string Irish Harp is ideal for all players; from the discerning beginner to the more experienced session musician. The quality materials used to ensure a durable yet lightweight body that features striking engraving on both sides.
Extra attention has been paid to the soundboard ensuring an even surface to vibrate, meaning the harp will have a mellow played-in sound straight away, with a rich and well-rounded response across the range. The treble and bass sound holes warrant a clear projection of sound, meaning the harp can sing out in any environment.
Dependable Levers and Fine Tuners
The Levers can be found below the pegs and feature a reliable mechanism that allows you to change your harps tuning with ease when needed. This allows you to raise the pitch of a string by a half step, meaning you can play the harp in many different keys with the flip of a lever.
Fine tuners on the opposite side are designed to keep direct tuning whatever the environment. They allow you to make small adjustments that assist you in keeping your harp in perfect tune.
Features/Specifications
Construction: Solid Beech Wood
Black, Multi-Color Special Levers ( As Per Availability in Stock)
Special Note:
Instructions by-product, In case of long-distance transportation Please acknowledge that there are scratches and dents, etc. in the outer box (may be opened for inspection) & Custom, duty & taxes may be applicable according to country law of receiver of products which are not included in price & shipping. Thank you very much for seeing it to the end. If you have something, we will do support quickly. Please feel free to email me with any questions.
Tuning tool & an extra string set included
Approximately 34″ high
Hand Carved Rosewood Frame
100% SATISFACTION MONEY BACK GUARANTEED!
Related Products
Lyre Harp 10 String Lacewood

Lyre Harp 10 String Lacewood

The solid lacewood body lends itself to the soft gentle curves of this ten-string lyre. The ten metal strings provide a classical sound that is enhanced by the solid spruce soundboard. When you are not playing, you can hang it up as a piece of art, it's that pretty. Tuning tools included. Hold it upright on your lap or as you walk, and pluck both sides of the strings. Or, lay it flat and pluck it. 8.25 inches wide by 16 inches long, 2.75 inches deep. Here are a few suggestions for tuning:

An authentic tuning derived from Judaic worship music, where the instrument was used to accompany the singing of the Chazzan, also known as a Cantor

€

500.00